Hair Benefits Of Arabian Jasmine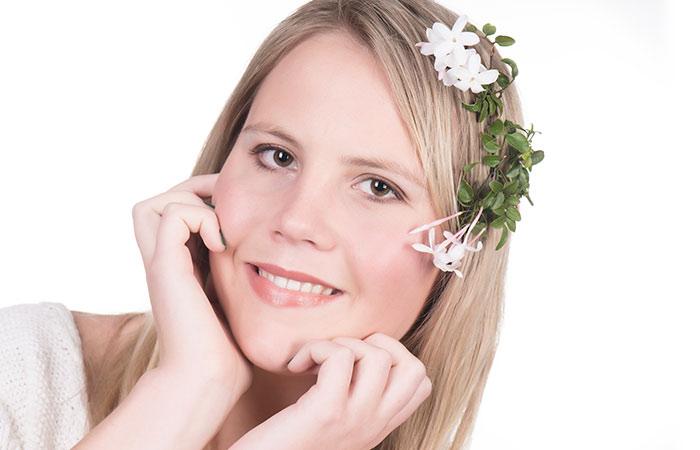 For Stronger, Longer, And Radiant Locks
The extract of jasmine leaves strengthens your hair roots, makes hair tensile and prevents it from turning brittle. This also ensures that your strands grow longerand thicker. Fresh extract of jasmine infused with coconut hair oil also gives you longer, fuller hair. Along with maintaining its natural color and sheen, this extract also ensures that you own thicker locks
 Natural Conditioner
Aromatic Jasmine serves as an easy and perfect natural conditioner as well.
What You Need To Do
Prepare jasmine water by steeping 10 to 15 jasmine flowers in plain water. Allow it to cool down and use it as the last hair rinse. It can be mixed with baking soda to be used as shampoo as well as a conditioner. Jasmine water can also be used as a serum to keep your hair conditioned. Jasmine, in the form of oil, can be applied to keep frizzy, curly, and unmanageable hair under control by padlocking the moisture
Anti-lice Agent
Are lice and bugs making your scalp itchy and irritating? Add a handful of jasmine flowers to a carrier oil (coconut, almond or any other of your choice) and apply it regularly on scalp and hair to shield your hair from the attacks of head lice.
Treats Scalp Infections
Come monsoon and bacterial-fungal infections attack your scalp. If you are looking for an easy remedy, jasmine can help.
What You Need To Do
Crush jasmine flower and steep it in coconut oil. Apply this on your infected scalp to treat an infection. The antiseptic and anti-microbial actions of both the ingredients work together, thereby ensuring that the infection subsides at a faster pace
 Keeps The Scalp Moisturized
Jasmine extracts when used along with coconut oil, almond oil, or jojoba oil is known to lock the moisture in the scalp, keeping the scalp hydrated while preventing hair fall and dandruff. So, say bye-bye to dry and itchy scalp with Jasmine