Amazing Benefits Of Figs (Anjeer) For Skin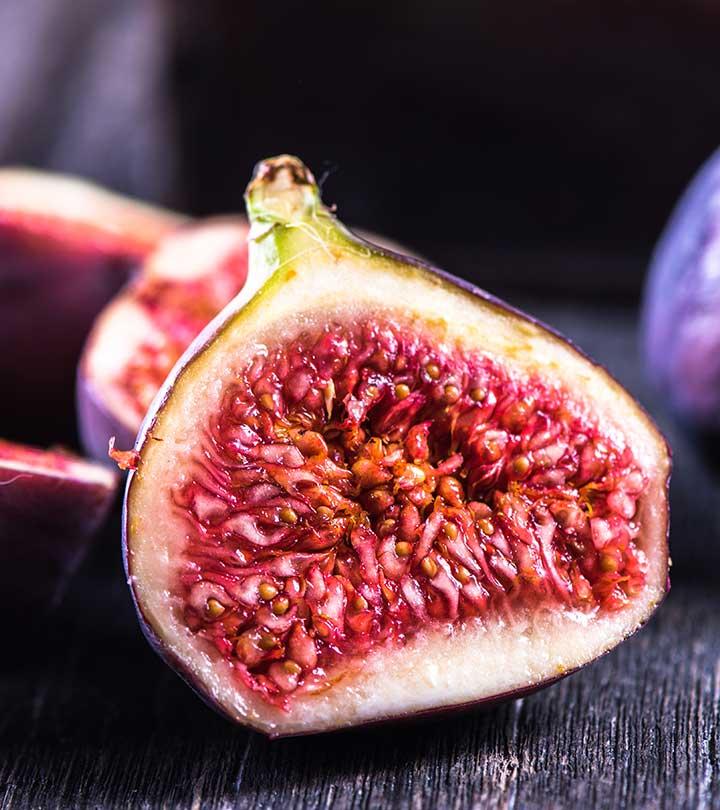 Prevent Wrinkles 
A study found that fig extract had an antioxidative and anti collagenase effect on wrinkled skin and reduced the percentage of wrinkle depth
In another study, it was found that a formulation containing fig fruit extract decreased skin melanin, trans-epidermal water loss, and skin sebum significantly. It also increased skin hydration. Hence, figs could be used as a remedy for hyper pigmentation, acne, freckles, and wrinkles
 Cure Boils And Warts
You can apply a fig directly on the skin to bring down various forms of skin inflammation like boils and abscess. A study found that the latex of the fig tree exhibited antiwart activity. This could be due to the proteolytic activity of the latex enzymes
Rejuvenate Your Skin
Figs are great for your skin. Whether you eat them or apply them as a mask, they make your skin beautiful. Here's a recipe for a mask.
Take one large fig or two small figs. Cut the fig in half and scoop out its flesh and mash it thoroughly. Add a teaspoon of honey or yogurt to it if you want to enhance the texture of your skin.
Apply the mask on your face and keep it on for 5 minutes. Wash it off with water and say hello to refreshed skin.
Make Your Skin Soft And Supple
Figs contain a high amount of vitamin C, a powerful antioxidant that helps to lighten and even out the skin tone. Blend five figs to get a smooth paste. Add a teaspoon each of powdered oatmeal and milk and half a teaspoon of dried ginger powder to it. Mix well to form a smooth paste. Use this face pack twice a week to get soft and smooth skin.